Fate hasn't been too kind to NCSoft's Guild Wars: Eye Of The North either. The game lost its previous number 2 position and is now below the middle line, on number 6.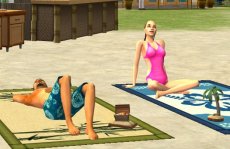 However, other competitors managed to prosper and go one step up the ladder: World Of Warcraft is now second and Medieval II: Total War Kingdoms reigns on the fourth step of the podium.
1. The Sims 2 Bon Voyage – Electronic Arts
2. World Of Warcraft – Blizzard
3. Bioshock – 2K Games
4. Medieval II: Total War Kingdoms – Sega
5. World Of Warcraft: Burning Crusade – Blizzard
6. Guild Wars Eye Of The North- NCSoft
7. Age Of Mythology w/Titans – Microsoft
8. The Sims 2 Deluxe – Electronic Arts
9. Civilization IV: Beyond The Sword – 2K Games
10. StarCraft: Battle Chest – Blizzard
The good news is that The Sims 2 H&M Fashion Stuff is currently out of the top ten best sellers. Still, I can't help but wonder if NPD has a special rule about two Sims games having to be simultaneously in the charts.