The creature in question was dubbed "Sapiusgeenus" and was created by user "FlamingChidori". It's a two-legged green creature resembling very much to a cyberpunk lizzard.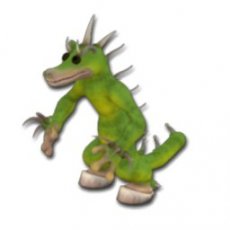 "Maxis is excited, humbled and inspired by the explosion of creativity that we've seen with the Spore Creature Creator online," said Lucy Bradshaw, executive producer of Spore at Maxis. "I'm amazed at the creations I see getting uploaded to the Sporepedia, whether it's a realistic looking bird or animal, a 10-eyed alien, or something completely bizarre and unexpected like a creature that looks like a motorcycle, it's clear that people have an innate desire to be creative, and we're thrilled to help them express themselves."
The Spore Creature Creator is available in two flavors. The "free" flavor will only offer about A 25% of the creature-making parts from Spore, while the "pay for" flavor will feature all the goodies cooked by Maxis.
Spore Creature Creator can be downloaded from here. The Spore game will be release on PC, Mac, Nintendo DS and mobile phones on September 5, 2008 in Europe and September 7, 2008 in North America and Asia.