The first details on the game will be unveiled during Hasbro's Showroom at Toy Fair on 15th -17th February, 2009.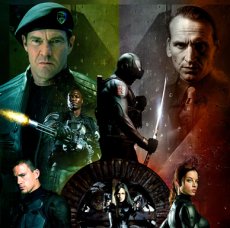 "G.I. Joe has been an icon of action for 45 years," said Mark Blecher, General Manager of Digital Gaming and Media at Hasbro. "EA has tapped the legacy of the G.I. JOE vs. COBRA saga to create an amazing interactive experience inspired by the movie, comic books, animated series and iconography that we hope will resonate with millions of fans."
The G.I. Joe video game will feature 12 G.I. Joe characters, each with unique abilities and weapons. A single-screen co-op mode will allow two players to easily unite as a team in a classic struggle between good and evil as they work together to defeat the powers of the Cobra organization.
G.I. Joe is under development for Xbox 360, PS3, Wii, PS2, PSP, Nintendo DS and mobile. Yes, Pc fans have been left out. Then again, PC gamers are also renowned for not buying bad games. Could it be just a coincidence?