European stores will get the game on September 17. North America will have to wait its turn until September 22. The game will be released on PlayStation 3, Xbox 360, PC and PSP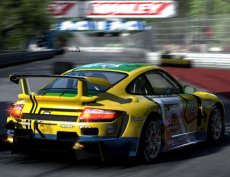 "With Need for Speed Shift, we set out to create a racing game that pushes the genre and delivers something never before seen in a Need for Speed title," said Patrick Soderlund, Senior Vice President at EA Games Europe. "By focusing on the driver's experience through the first-person view, we are able to capture the high-speed intensity and gripping emotions of racing."
Need For Speed Shift will be focused on a physics-based driving model, allowing players to feel "every impact, every change of track surface and every last bit of grip", claims EA. The game also features the largest roster of high-performance cars in Need for Speed history including race cars such as the Pagani Zonda F, Porsche 911 GT2 and Lotus Elise.
Need for Speed Shift is being developed by Slightly Mad Studios in collaboration with Black Box and Patrick Soderlund. The PSP version is being developed by EA's Bright Light studio.