Let's face it: we had this coming ever since EA announced ity was teaming up with Hasbro.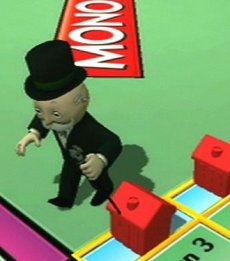 The new game is currently under development and will be released on Nintendo Wii, Xbox 360, PlayStation 2, mobile phones and Pogo.com. EA plans to release at the same time as Hasbro's Monopoly Here & Now: The World Edition board game, given the fact that the new virtual edition is based on the board game.
"EA is taking Monopoly's core gameplay and bringing it to life in a way never before imagined," said Chip Lange, Vice President and General Manager of EA's Casual Label. "With this dynamic take on Hasbro's classic board game, we've accelerated the pace of play, added new interactive mini-game sequences and integrated multi-player moments designed to make Monopoly a non-stop party for the whole family."
Aside from the offline and multiplayer due, the EA edition of Monopoly promises to come packedwith a few special extras, such as interactive mini-games (breake out of the jail cell and running away with all the loot) or simultaneous gameplay.