The move is hardly a surprise, especially since Amazon acquired casual game developer and distributor Reflexive in October last year.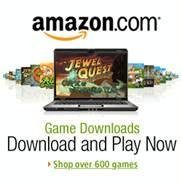 At this point, the new digital store is aimed exclusively at PC gamers looking for casual titles. Amazon's offer consists in 600 games, all priced at either $6.99 or $9.99.
As expected, the debut was also marked by a special offer:
"As a bonus for exploring our new Game Downloads store, for the next week we're offering three free, full-version games – Jewel Quest 2, The Scruffs and Build A Lot. […] We could tell you loads more about the range of games, and all the standard Amazon features you'd expect, but instead we'll just say this: go play!" reads an official Amazon blogpost.
Every game available on Amazon's store will be available as a 30-minute trial, so customers can try it out and decided whether it's worth buying it or not.
The Amazon Game Downloads store is available here.