But first, let's have a look at the new additions in the GH III playlist:
– Minus Celsius (Backyard Babies)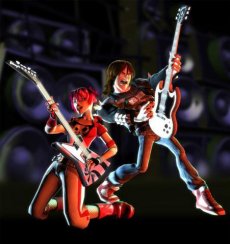 – Hier Kommt Alex (Die Toten Hosen)
– In the Belly of a Shark (Gallows)
– I'm in the Band (The Hellacopters)
– Avalancha (Heroes Del Silencio)
– Take This Life (In Flames)
– Ruby (Kaiser Chiefs)
– Closer (Lacuna Coil)
– Generation Rock (Revolverheld)
– Mauvais Garcon (NAAST)
– Radio Song (Superbus)
The Guitar Hero III: Legends of Rock demo will first ship on October 9, alongside Tony Hawk's Proving Ground. Later on, the demo will also be released on Microsoft's Xbox Live service. According to Activision, the demo will include five songs:
– Lay Down (Priestess)
– Even Flow (Pearl Jam)
– The Metal (Tenacious D)
– Hit Me with your Best Shot (Pat Benatar)
– Rock You like a Hurricane (Scorpions)
Guitar Hero III: Legends of Rock is scheduled to be released on late October on on PlayStation 2, Xbox 360, PlayStation 3 and Wii.