The score is the work of Garry Schyman, the same man involved in the musical part of Full Spectrum Warrior: Ten Hammers, Destroy All Humans! And it sequel, Destroy All Humans! 2: Make War Not Love.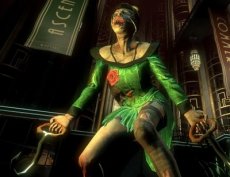 The publisher's offer features 12 tracks, archived into a 23 MB zip file. The bad news is that two remix tracks (Moby and Oscar the Punk) from the "Bioshock EP" are not part of the pack and remain exclusive items of the Bioshock Collector's Edition set.
Last week, BioShock fans were "pleased" to find out that the game included SecuROM and that they were limited to 2 installations per game. The publisher had change the terms in order to appease the angry Internet crowd and later announced that it had increased the maximum computers you can install the game simultaneously on from 2 to 5. The the maximum installs on the same computer had also been increased from 3 to 5.