The company announced its intention to close down three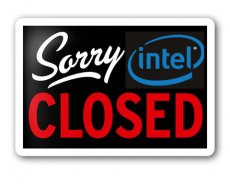 assembly test facilities . Two of them are located in Penang, Malaysia and the third one is in Cavite, Philippines.
In addition, Intel plans to halt production at Fab 20, an older 200mm wafer fabrication facility in Hillsboro, Ore, as well as to end wafer production operations at the D2 facility in Santa Clara, Calif.
The new restructuring plans are expected to affect between 5,000 and 6,000 employees worldwide. According to Intel, some of the staffers may be offered to continue to work for Intel at other facilities.
Still, it's safe to assume all of the affected employees will have a resume ready for the case in which they will be getting the pink slip instead of the monthly paycheck.
Intel's actions will take place between now and the end of 2009.