According to the announcement, the Xbox 360 version will go ahead without the full support of the original developer/publisher team. The original RTS was developed by Gas Powered Games and published by THQ earlier this year, while the console version will have the developer share its territory with British Columbian upstart Hellbent Games. The publisher of the new game will be Aspyr Media.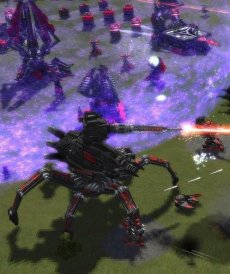 As expected, the 360 Supreme Commander will come with its fair share of new units and updated maps, plus new multiplayer modes for online play via Xbox Live.
Supreme Commander creator Chris Taylor, stated:
"Aspyr's developer-friendly publishing environment delivers 100% on our vision for bringing Supreme Commander to the Xbox 360. We believe that we've raised the bar for RTS gaming on the PC and now, co-developing with Hellbent Games, we know that we can do the same on consoles. Hellbent brings a talented, veteran team together to deliver Supreme Commander to the Xbox 360 platform."
Given the complexity of the game, it's hard to believe that the developers will be able to keep the same experience while significantly restricting the controls. Our bet is that the console version will be trimmed down in some areas, just to keep everything going smoothly. After all, one game pad still can't match p to the freedom offered by the keyboard+mouse combo.
The original Supreme Commander game was released back in February. The Xbox 360 version is scheduled to ship out in early 2008.