The game is under development at Gearbox Software (Brothers in Arms: Earned in Blood, Halo: Combat Evolved).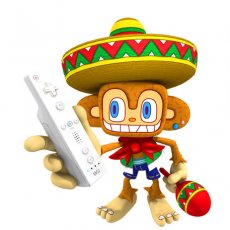 Players will take up the role of the grinning, sombrero-topped monkey, Amigo. As expected, the rhythm title will have them shake the Wii Remote and Nunchuk like maracas, in time with the visual beats of the music on-screen.
"The Wii's controllers enable players to enjoy Samba De Amigo's unique gameplay without having to purchase an expensive peripheral," said Rick Naylor, Director of Marketing at SEGA. "Between the music, the quirky art style, and the maraca-shaking players, Samba De Amigo is as much fun to watch as it is to play."
Sega will say nothing more for the time being, but promised that a full song listing and the new special features would be revealed over the next few months. After all, that's how you build up hype, don't you?
The rhythm title Samba De Amigo originally appeared on the Dreamcast console.