The game is basically a follow up to the 2004's Red Dead Revolver and is under development at Rockstar San Diego.
Described as a "W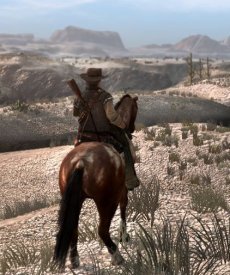 estern epic, set at the turn of the 20th century when the lawless and chaotic badlands began to give way to the expanding reach of government and the spread of the Industrial Age", Red Dead Redemption features the story of former outlaw, John Marston, which will take players on a great adventure across the American frontier.
The game uses Rockstar's proprietary Rockstar Advanced Game Engine (RAGE) and features an open-world environment for players to explore, including frontier towns, rolling prairies teeming with wildlife, and perilous mountain passes – each packed with an endless flow of varied distractions.
"The seamless combination of breathtaking beauty and intense action, all woven together with strong plotlines in a massive vibrant, rural environment is mind-blowing. We think this game helps to push the limits of what an open-world gaming experience can be," said Sam Houser, Founder of Rockstar Games.
Last but not least, players will get to experience the heat of gunfights and battles, meet unique characters, and pick their own path through "an epic story about the death of the Wild West."