The Japanese company announced that over 120 million consoles have been sold worldwide, as well as over two billion software titles. However, the numbers won't stop here and Sony will make sure of that. Don't mess with a good thing, right?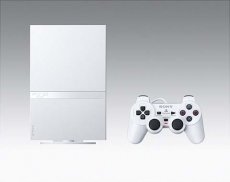 "We look forward to the platform's continued growth and expect to sell approximately 12 million units worldwide by the end of March, leading us to anticipate that PlayStation 2's life cycle will exceed that of the original PlayStation," said SCEA president and CEO Jack Tretton.
The PlayStation 2 will continue to be supported by the company at least until 2010. Immediate plans include the release of 160 new games through March 2008, with Guitar Hero III, Madden NFL 08, and Manhunt 2 as three of the top titles. Also, Sony will release a new ceramic white PlayStation 2 model, priced at $150.
The game will be bundled with Singstar Pop and two microphones.
The measure were to be expected. With the PlayStation 3 still failing to win over consumers, the company had to be looking for new ways to keep its fans in line, if not attracting new ones. A good price policy and a constant number of good games being released every now and then, the news about PS2 getting pulled out from the market is unlikely to hit the web in the next few years.