The Wii version will allow players to use Nunchuk controller to give opponents a taste of their Force powers and adds an exclusive duel mode in which players can compete head-to-head with their friends.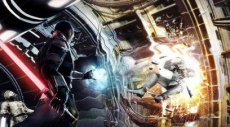 "The Wii is a great platform for The Force Unleashed, because the console's motion-oriented controllers really bring the game to life," said Jim Ward, President of LucasArts. "We've worked hard to make the Wii version of the game unique in order to truly let you unleash the Force."
The story in Star Wars: The Force Unleashed takes place in the blurry period between Star Wars: Episode III Revenge of the Sith and Star Wars: Episode IV A New Hope. Luke Skywalker is busy being a farmer at this time, so player will have to take the role of a new character, Darth Vader's "Secret Apprentice". Officially, he must do his best and crush all the Jedi in the Galaxy, but our bet is that some twists in the story are to be expected.
Star Wars: The Force Unleashed for Wii is under development at Krome Studios, the same studio responsible for the PlayStation 2 and PSP versions of the game. n-Space, Inc is working on the Nintendo DS title. The Xbox 360 and PlayStation 3 version are being developed exclusively by LucasArts.