The "no-disc" feature is part of the patch 1.08, which will become mandatory for online play starting this Friday.
The announcement reads as follows: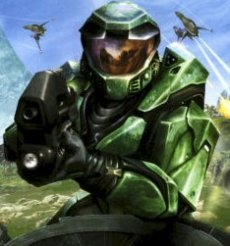 "As an added treat for our loyal users still playing Halo PC after 5 years, I got clearance to discontinue the CD check as part of this patch! This doesn't change the licensing (don't pass around your disc), and you still need your unique product key to play online, but I figure your CD is probably pretty scratched after all this time, and it deserves a break. "
" To give you confidence that you're playing on a patched server, this build is not backwards-compatible with old servers, nor will the new server work with old clients. For this reason, I'm posting the patches here a day and a half before I'll mark them for auto-updating in-game. This way, server operators have a little time to roll out the new bits before Friday's auto-patch of the client."
The patch also features a handful of fixes for server-crashing bugs and…and that's it. The game was released five years ago, so almost nobody is interested in working on fixes for aimbots.