The European release will occur 3 days later, on October 24, while release dates for other regions of the world are still to be set.
Fable II is developed by Peter Molyneux and Lionhead Studios and will be available only on Xbox 360. The game features a new combat system designed to allow players to truly master hand weapons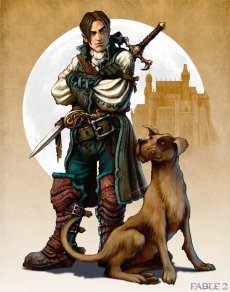 , ranged combat weapons and magic, each using a different single button on the Xbox 360 controller.
In addition to the standard retail version, "Fable II" will be offered in a Limited Collector's Edition which features the following:
– Bonus DVD – Includes new 'Making-of Feature' with Peter Molyneux and the team at Lionhead Studios and concept art viewer
– Bonus In-Game Content (Requires LIVE account) – Includes "The Hall of the Dead" Dungeon, "The Wreckager" Legendary Cutlass Weapon and Otherworldly Bonus
– Collectible Hobbe figure with accessories – From the Qee Collection comes this one-of-a-kind Hobbe figure. Nasty, brutish, and short, he roams the countryside, preying on travelers and spiriting away the children of the unwary.
– 48-hour Xbox LIVE Gold Trial Card – With Xbox LIVE Gold, players can show off their individual hero by inviting friends into their unique version of Albion or they can visit their friends' Albion, and earn additional gold, experience and renown to take back into their own.
– Five printed Fate Cards – These five beautiful cards foretell the Hero's great destiny to journey across all of Albion, encountering deadly enemies and enigmatic allies. The path leads to a choice that will change the world forever.
"Fable II" is rated "M" for Mature and will retail for $59.99. The Limited Collector's Edition will retail for an estimated price of $79.99.