The filing doesn't say very much, except to clearly show that Activision really plans to milk the singing franchise as best as it can. The description for Guitar Hero Modern Hits goes as follows: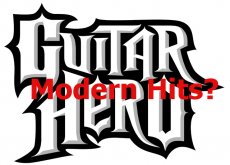 "Computer game software and related instruction manual sold together as a unit; interactive video game programs; computer game cartridges; computer game discs; downloadable computer game software; video game controllers; interactive video game comprised of a cartridge or DVD sold as a unit with a video game controller."
To make matter clear: Modern Hits will take the same path as it Guitar Hero: Aerosmith did before it. Activision plans to release a new boxed product. As for downloadable content, it may come in time, but only as a side-feauture of the upcoming game.
There's no word on what tracks will be included in this edition, but you can safely bet that the focus will be on modern-day music. So just take a look at the current charts and see what you would like to have. (hint: don't choose hip hop songs. Rumor has it Activion is unlikely to choose them /sarcasm)