The
description
reads as follows:
"The second chapter in the Mass Effect trilogy takes you to the darkest reaches of space, where you must uncover the mystery behind the disappearance of humans across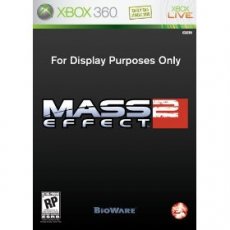 many worlds. Prepare yourself for a suicide mission to save mankind. Travel the galaxy to assemble a team of soldiers and combat specialists, and launch an all-out assault on the heart of enemy territory."
The list of product feature is rather short and doesn't say too much. For now, it's just a teasing page, but do expect details to pop up in the (near?) future:
– The second act of BioWare's epic sci-fi trilogy continues the story of Commander Shepard and humanity's first steps onto the galactic stage
– Success – or failure – depends heavily on the crew you assemble and their loyalty to you and the mission
– Stunning graphics and a refined dialog system will draw you into the story like never before
– Numerous improvements to the intense, third-person shooter combat
– Deep character customization options let you create your own vision of Commander Shepard
The sci-fi RPG is in development at BioWare and will be released on Xbox 360 and PC.