The company wouldn't say why the PC version of the game is to become available one week later than its console siblings. PoP on PC will be released later and that' the end of the story as far as Ubisoft is concerned.
In the mean time, here's the list of hardware required to run Prince of Persia. These are the minimum specs, so don't expect to play the game at full graphics and full full speed. Maybe an upgrade would fit nicely in your upcoming shopping plans?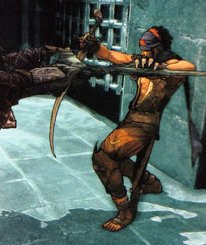 Here are the minimum PC specs to run PoP, there are no recommended specs as basically anything you have over this will run it nicely.
Prince Of Persia Minimum System Requirements:
– Processor: Dual core processor 2.6 GHz Intel Pentium D or AMD Athlon 64 X2 3800+ (Intel Core 2 Duo 2.2 GHz or AMD Athlon 64 X2 4400+ or better recommended)
– RAM: 1 GB Windows XP/2 GB Windows Vista
– Video Card: 256 MB DirectX 10.0–compliant video card or DirectX 9.0–compliant card with Shader Model 3.0 or higher
– Supported video cards include the Ati Radeon X1600*/1650*-1950/HD 2000/3000 series and the Nvidia GeForce 6800*/7/8/9 series
– Sound Card: DirectX 9.0 or 10.0–compliant sound card (5.1 sound card recommended)
– DirectX Version: DirectX 9.0 or 10.0 libraries (included on disc)
– DVD-ROM: DVD-ROM dual-layer drive
– Hard Drive Space: 8 GB
– Peripherals Supported: Keyboard, mouse, optional controller (Xbox 360 Controller for Windows recommended)
The game will run on both Windows XP and Windows Vista.