The new game will be released this year on Nintendo Wii and DS. EA has yet to unveil the exact release date.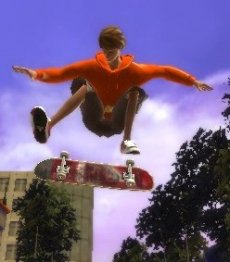 According to Electronic Arts, Skate It let gamers use the Wii remote or the Nintendo DS stylus to string together their best tricks for the ultimate skate line. Perhaps more important, the game will be introducing innovative support for the Wii Balance board, giving players "a fresh way to create their own signature skateboarding style".
"We knew it would be an exciting challenge to bring the soul and feel of skateboarding to the Wii and Nintendo DS," said Scott Blackwood, Executive Producer – Skate franchise. "With fresh new designs and gameplay components built from scratch, we've been able to, once again, capture the true experience of skateboarding in a completely innovative way."
In related news, EA is also working on a game aimed at the big boys of the console world. Skate 2 has entered development and will be released on PlayStation 3 and Xbox 360.