The rumors were started by a slide in a presentation held by EA CEO John Riccitiello, called "Best Creative Talent". The slide also mentioned Black, Boogie and Skate.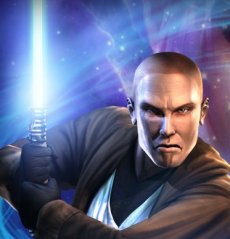 But Electronic Arts doesn't agree with what everyone believes and issued their own version of the story:
"The slide in John's presentation is titled 'Best Creative Talent'–it addresses future and past titles," EA told Shacknews. "KOTOR, Black, Boogie, Skate and some other titles on the slide speak to past portfolio releases and the pedigree of the studio but do not specifically address future sequels."
So, either EA is not interested in the KotOR franchise right now or they're just obsessed about keeping a lid on things before they have something more to show about it.