The release is a special edition that includes the Burnout Paradise game, the Burnout Paradise Cagney and Burnout Paradise Bikes content updates and the new Burnout Paradise Party content.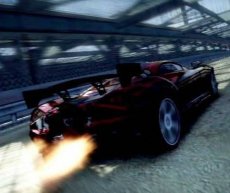 The Burnout Paradise Party add-on is an offline multiplayer mode designed to allow up to eight friends to "pass-the-pad" in dozens of Burnout challenges. For players that already own Burnout Paradise, Burnout Paradise Party will be sold separately as downloadable content. The add-on features three tupes of challenges: stunt, speed and skill events.
In addition, the Burnout Paradise The Ultimate Box will include several new features, such as a restart option added for racing and easier control of the early vehicles
"Whether you're an experienced player or a gaming novice, Burnout Paradise is a game that anyone can enjoy," says Pete Lake, Senior Producer at Criterion Games. "With The Ultimate Box, we aimed to deliver the most fun, high quality and high value experience possible to players both online and in the living room."
Burnout Paradise The Ultimate Box will be available in February 2009 on PlayStation 3, Xbox 360 and PC.