Metallica is the second band to get digitalized in a Guitar Hero game, right after Aerosmith.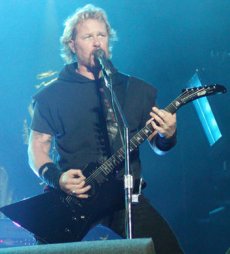 GameSpot has been browsing through Activision papers and came up with the following:
"In fiscal 2009, we plan to publish Guitar Hero: On Tour for the NDS; Guitar Hero: Aerosmith, Guitar Hero: Metallica, and Guitar Hero IV across multiple platforms,"
The Aerosmith project was confirmed back in mid-February, with Activision revealing that the game would be released on PlayStation 3, Xbox 360, Nintendo Wii and PlayStation 2.
The company was not very specific about its release plans for Guitar Hero: Metallica, but it's safe to assume that the game will follow a similar path and have its virtual gigs on the same consoles.
Metallica was formed in Los Angeles, California in 1981 by guitarist and vocalist James Hetfield and drummer Lars Ulrich.