At first it may seem as regular business. Dump one label, go for another offer. Live Nation put $120 million on the table and Warner chose to fold, instead of raising the stakes.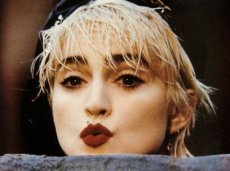 Then again, it's not quite so. Madonna is the latest heavy name on the stage to cut the strings leading to the record industry. Previously, Radiohead decided to cut the industry out of the deal and sell its albums directly to the public via Internet, and also to allow their fans to pay just as much as they feel they should.
Following up, Nine Inch Nails announced a similar move, and Oasis and Jamiroquai are supposed to get on this train too.
As expected, Warner Bros will keep the lion's share, meaning all of Madonna's songs recorded under her current contract, the rights to publish her next album (scheduled for next year) and a greatest hits collection.
The cash will flow for some time, no doubt about it. But having an artist break away after a collaboration of nearly 25 years gives Warner a black eye.
Any bets on who's next and how soon we'll see a change in how the record industry does business?