At this point, Zune officials are applying the old business PR strategy: if your business fail, blame the others. According to Adam Sohn, the Zune's director of marketing, the player's downfall was caused by a mix of mishaps, starting with the global recession and ending with specific market conditions.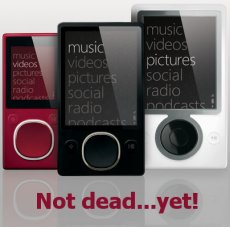 Sohn told Seattle P-I during an interview:
"Some of them are environmental," he said. "Everyone knows that the economy is not what it was a year ago and that is hurting some folks. We are in a position where the category is also shrinking. So I think those are things that affected everybody's sales, including Apple."
In addition, Zune's failure to attract consumers may also have been caused by the lack of new models:
"Last holidays we were introducing new devices," he said. In addition, Sohn said, "There were a ton of 30 gigabyte devices and we got very aggressive with our resale partners trying to get those out of inventory."
All of the above sound like solid reasons and do make a lot of sense. But what if Sohn just happened to forget the most important one: that people just don't like both the player and its limiting DRM features.