Worldwide sales for Wii this November were of 3.6 million, according to data from NPD Group. The console was released in November 2006 and its total sales amount to an impr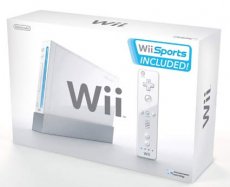 essive 15.4 million only in the United States.
In the mean time, Nintendo's handheld DS console doesn't appear to be selling too bad either. The Nintendo DS system was the runner-up in November's best seller content, with over 1.56 million sold. On the other hand, the DS surpasses the Wii in terms of total sales in the US: 24.6 since its release in November 2004.
"Nintendo's record-breaking sales demonstrate that consumers are looking for the best value not only among video games, but also among all entertainment options," said Cammie Dunaway, Nintendo of America's executive vice president of Sales & Marketing. "Shoppers are looking for gifts that can be enjoyed by the whole family, and Nintendo provides an incomparable range of experiences that gets the whole family involved."
Nintendo was also proud to point out that four games made for its systems got in the top U.S. best-sellers for November: Wii Play (3), Wii Fit (4), Mario Kart (5) and Wii (9)