The recently-release N95 model now features 8GB of storage, which accounts for up to 20 hours of video or up to 6,000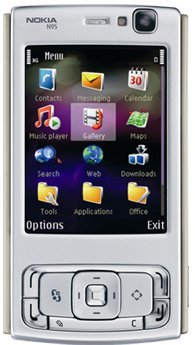 songs. Also,the device features a larger 2.8 inch (240 x 320) QVGA screen (the previous model had a 2.6 inch).
The special marketing push for the new model will be provided by Spiderman 3. Nokia and Sony Pictures in Europe entered a partnership to launch the N95 8GB pre-loaded with a full-length copy of Spiderman 3 in Europe and selected countries in the Middle East and Africa.
The movie will come in ten languages and subtitle combinations. The offer also includes Spider-Man 3 message and ring tone, wallpaper and screen saver, while additional Spider-Man 3 games, ring tones and videos clips will be available via the Download! Catalog in selected countries.
Other features in the N95 8GB include a 5-megapixel camera, built-in A-GPS, Wi-Fi, HSDPA and the trademark two-way slide.
The N95 8GB is expected to retail for around 560 Euro.