One of the main features of the new device is the Inner Circle, which allows HTC Snap users to press a dedicated Inner Circle key to bring emails from a pres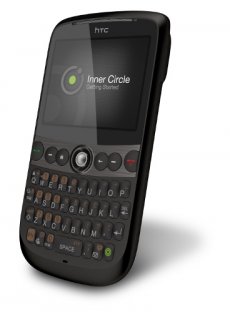 elected group of people to the top of their inbox, enabling important messages to be acted upon immediately.
"Recognizing that people are being overwhelmed by an avalanche of email, the HTC Snap introduces Inner Circle, an HTC innovation that makes it easy for people to prioritize messages from the most important people in their lives at the press of a button," said John Wang, Chief Marketing Officer, HTC Corporation. "The HTC Snap represents the latest step in HTC's mission to create a range of innovative smartphones, each with specific benefits designed to both surprise and delight our customers."
The HTC Snap measures less than a half-inch thick (12 mm), features a full QWERTY keyboard, high-speed 3G HSPA connectivity and provides up to eight and a half hours of talk time with the standard 1500mAh battery. The hardware department includes a 528mHz Qualcomm CPU, 256MB of ROM and 128MB of RAM. The new phone is based on the Microsoft Windows Mobile 6.1 Standard platform
The HTC Snap is expected to be available in select channels during the second quarter of 2009, rolling out in markets around the world throughout the second half of the year.