At first, the new phone will be available for customers in seven European countries (Germany, Ireland, Italy, Netherlands, Portugal, Spain and the United Kingdom) and in South Africa ( Vodacom customers only).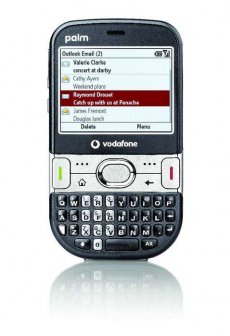 The Palm Treo 500v smartphone is based on Windows Mobile 6. It includes a full QWERTY keyboard, large screen, video streaming capability and support for Instant Messaging, SMS, email and phone.
The list of features for Palm Treo 500v also includes the following:
– Automatic delivery of Hotmail/MSN, Yahoo!, and Gmail, email as it arrives
– Large, high-resolution screen
– Internet Explorer Mobile full-featured browser
– Access to Google Maps and eBay
– Vodafone live! for news, sports, and entertainment on the go
– 3G/UMTS network
– Planner with address book, calendar, to-do lists, and more
– View Microsoft Word, Excel, PowerPoint, and Adobe PDF files – Windows Media Player Mobile for music and videos – 2.0 megapixel camera captures video too
– 150MB of memory, expandable with microSD expansion card
– Microsoft Direct Push technology for delivery of Outlook email
– Bluetooth wireless technology
The Palm Treo 500v will be available in two colors: glacier white and charcoal grey. Vodafone has yet to announce a clear price policy.