Apple is currently facing a Buridan-like dilemma in the Land of the Rising Apple. The company has been reported to be in advanced talks with NTT DoCoMo, Japan's largest carrier. Speculation grew once NTT DoCoMo president Masao Nakamura was known to have had a meeting with Steve Jobs and it went much further recently, when a company spokesman confirmed that the two giants are in talks.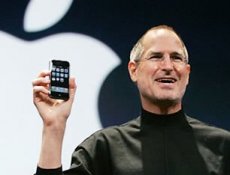 The news helped DoCoMo's stock rise 1.7% in the recent future. In the mean time, Apple is also negotiating with the number 3 company on the market, Softbank Corp. Everyone's guess is that time will tell which one got the deal, although most bets are placed on DoCoMo.
However, Apple's true problems lie in China. Current estimations have it that the market will grow to an approximate 500 million mobile phone in just a few years, a nice place for Apple to launch its top product.
The company has been negotiating with China Mobile, the biggest operator on the market, but recent reports indicate that Apple's revenue scheme has little success with the Chinese top execs. In both US and Europe, Apple gets around 10% of mobile subscriber fees, a type of deal that doesn't sound to good to China Mobile and has been rejected so far.