In addition, Mail for Exchange will be available out-of-the-box in future releases of Nokia Eseries and Nokia Nseries devices.
"We take corporate and IT security policies seriously, and a comparison study showed that the device management and security policies for devices such as the Nokia Eseries are robust," said Anssi Vanjoki, Executive Vice President, Markets, Nokia. "This should give business heads and IT managers greater confidence when choosing between device brands to mobilize their workforce."
Nokia owners whose companies use Exchange can set up Mail for Exchange for free on their devices in various ways without paying additional services or subscription fees – from the email set-up plug-in on the home screen, by launching the application from the Download! folder, or via the Settings Wizard.
Once the application is set up, users utilize their current data plan service to access their office email, calendar, contacts, tasks and company directory over a secure connection.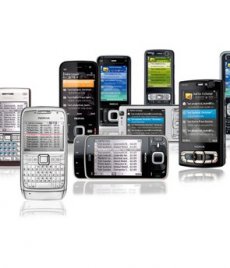 Nokia device users will have access to features that are currently not available in other Exchange ActiveSync licensees' devices. Setting email priorities, alerts for meeting request conflicts, a standalone global address list application to search for a colleague's contact details quickly, downloading and editing all types of attachments, not just image files, are must-have factors that users will expect from their mobile email application.
The list of phones featuring Microsoft Exchange ActiveSync is down below:
– Nokia Eseries: Nokia E71, Nokia E66, Nokia E90 Communicator, Nokia E70, Nokia E65, Nokia E62, Nokia E61i, Nokia E61, Nokia E60, Nokia E51, Nokia E50
– Nokia Nseries: Nokia N96, Nokia N85, Nokia N79, Nokia N95 8GB, Nokia N95, Nokia N82, Nokia N81 8GB, Nokia N81, Nokia N78, Nokia N77, Nokia N76, Nokia N75, Nokia N73, Nokia N93, Nokia N93i, Nokia N80, Nokia N91, Nokia N92, Nokia N71
– Other Nokia S60 3rd Edition devices: Nokia 3250, Nokia 5500, Nokia 6290, Nokia 6110 Navigator, Nokia 6120 classic, Nokia 6121 classic, Nokia 6122 classic, Nokia 6124, Nokia 6650 fold, Nokia 5320 XpressMusic, Nokia 5700 XpressMusic, Nokia 6210 Navigator, Nokia 6220 classic