The malfunctioning adapters were released on the North American market. According to Toshiba, the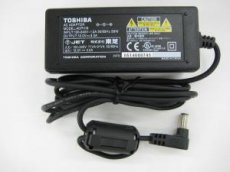 adapters were sold with the Toshiba Model SD-P1600 portable DVD player between January 2005 and April 2006 and retailed for $200 – $230.
The new recall was started by two reports of minor damage to the bottom of the DVD player. Further investigation revealed that the AC adapters can fail, cause the portable DVD player to overheat and therefore pose a burn hazard to consumers.
Customers are advise to check their AC adapters and see if they need them replaced. The faulty adapters have "Toshiba" and ADPV16 written on one side, while "Toshiba", Model SD-P1600, and the serial number can be found on a rating label on the bottom of the cabinet for the DVD player.
The company advises customers to stop using the AC adapters and to contact Toshiba Customer Solutions for a free replacement adapter. Further details are available here.
Toshiba's previous recall dates from August, when the company took back 1,400 laptop batteries provided by Sony.