In addition, SanDisk has big plans for Fanfare, a video download service supposed to compete with Apple's iTunes and Amazon. The service is currently in beta stage and charges $2 per download.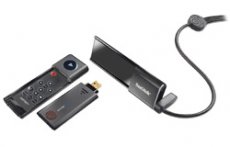 "Years ago, transferring content from one PC to another was awkward too. SanDisk made it seamless through our Cruzer USB flash drives," said Daniel Schreiber, senior vice president and general manager for SanDisk's audio/video business unit. "We challenged ourselves to bring this same simplicity to transferring video from the PC to the TV. The result is Sansa TakeTV – a best-in-class product that smoothly bridges the gap between these two ecosystems."
The Sansa TakeTV pack includes a USB drive, remote control, and a docking station. Two models will be made available, one featuring a capacity of 4 GB ($99.99), and a 8GB one ($149.99). The device is compatible with Windows Vista, Windows XP and the latest versions of Mac and Linux and supports various video formats, such as DivX, XVID and MPEG-43.
At present time, SanDisk occupies the second place on the media player market. Currently, the company's grasp is around 10%, far behind Apple.