The list of new additions includes two Full HD 60fps units (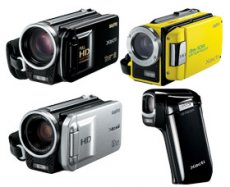 VPC-FH1, VPC-HD2000), two waterproof HD models (VPC-WH1, VPC-CA9) and two Compact HD cameras (VPC-TH1, VPC-CG10).
All six new models have been dubbed "dual cameras": the devices feature separate video and photo buttons, enabling users to switch between shooting video and photos without having to stop for this operation. The Xacti cameras use SD/SDHC media cards to store photo and video content.
Sanyo announced that the new models will be available in both horizontal one and the vertical versions and that the colour range will include at least 4 options: red, green, pink and gold.
The retail prices for the new Xacti camcorders will range between $200 and $600.