In fact, the game managed also to surpass the company's best expectations, thus driving Ubisoft to raises its guidance for fiscal year 2007-2008: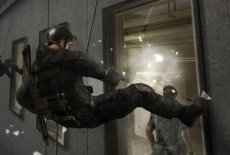 "Tom Clancy's Rainbow Six Vegas 2 had a better than expected start. One year after the great success of the first title, the second iteration, which provides another unique multi-player experience in the much enjoyed Tom Clancy environment, is ranked among the top games on Xbox 360 and PlayStation 3 in almost every country," said Yves Guillemot, President and CEO of Ubisoft.
The company announced that it had raised the sales guidance for the fourth quarter to approximately 210 million Euro compared to a previous guidance of around 165 million Euro.
As it follows, Ubisoft now expects full-year 2007-08 sales to be around 920 million Euro. Previously, the French publisher's expectations were around 875 million Euro, as announced on January 23, 2008.
So no wonder Ubi was so glad and eager to acquire the intellectual-property rights to the Tom Clancy name.