But first, the good news. The beta demo has been available since Friday and features three maps: HeatRay, ShangriLa and Suspense. The maps can be played locally against bots, or online against human opponents.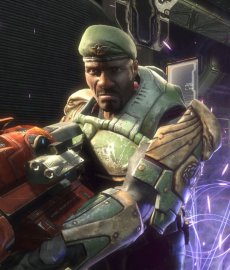 HeatRay and ShangriLa are both Deathmatch maps, with one being a night-time urban setting and the other a sunny, tranquil map set high in the Izanagi Mountains. Suspense is Vehicle Capture the Flag addition to the pack and is set on a massive suspension bridge deep in Axon territory.
Up till now, the only word on the Xbox 360 version of UT 3 was "next year", but apparently this deadline is no longer valid. According to Epic's president Mike Capps, Xbox 360 owners might as well forget about the deadline and focus on the "dead" part. During a Unreal Tournament 3 video over at GameTrailers, Capps stated: "we're just on PlayStation 3, so we get to focus on that platform."
Considering that there's been much talk on the PC and PlayStation 3 version and none at all on the Xbox 360 one, one could say that this was the final warning. Then again, it might just be a way to promote the other versions.