Sims 2 Apartment Life was just released and already hit the top spot. Therefore, don't act all surprised if the title is stubborn enough to remain in the top for a very long time.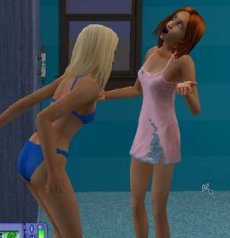 Two other Sims 2 are also located in the top ten, with Double Deluxe on the third and IKEA Home Stuff on the seventh.
World Of Warcraft: Battle Chest fought and conquered the second place, with the original games setting camp on the fourth, while the Burning Crusade is on the rear guard, also known as no 7.
The rest of the top is mostly mixture of Blizzard and Electronic Arts titles, plus Liquid Dragon Studios' Deadliest Catch: Alaskan Storm
The top ten for the week ending on August 30 goes as follows:
1. The Sims 2 Apartment Life
2. World Of Warcraft: Battle Chest
3. The Sims 2 Double Deluxe
4. World Of Warcraft
5. Spore Creature Creator
6. Deadliest Catch: Alaskan Storm
7. World Of Warcraft: Burning Crusade
8. The Sims 2 IKEA Home Stuff
9. Warcraft III Battle Chest
10. Diablo Battle Chest