The Quake invasion will begin in North America one week later, on October 2.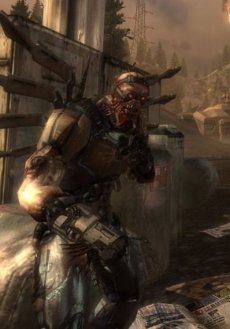 "After months of testing, tweaking and balancing Enemy Territory: Quake Wars, I'm pleased to finally be able to say 'It's Done!' We've had a ton of fun getting the game ready for the masses and I'm looking forward to seeing the massive battle for the top of the online leaderboards begin!" ( Todd Hollenshead, id Software CEO)
Enemy Territory: Quake Wars has been developed by Splash Damage. The game is set in 2065 and will put the player in the middle of conflict between Earth's Global Defense Force (GDF) against the invading alien Strogg. Those willing to take part to the multiplayer battle will get to choose between five unique character classes and then head out to battle either online or offline with computer controlled AI teammates and opponents.
Enemy Territory: Quake Wars for Windows PC is rated "T" by the ESRB and will retail for $49.99. A Limited Collector's Edition will also be made available for $59.99.
In the mean time, Nerve Software in working on the Xbox 360 version of the game and Activision Foster City on the PlayStation 3 one.