World at War was released on 6 platforms (PC, Xbox 360,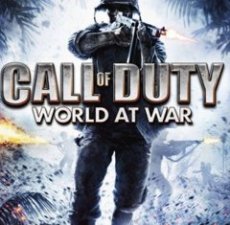 PS3, PS2, Wii, DS). However, the battle was not won only because of the numbers. The silver medalist – FIFA 09 – saw itself arrive on 7 platforms (all of the above plus the PS2) and still failed to win the final match.
A good result though, as compared to other multiplatform release. Need for Speed Undercover managed to arrive in forth position, while Tomb Raider: Underworld barely managed to climb up in the top 10, on the ninth spot. Lara must've had a sprained ankle, we guess.
Perhaps the biggest disappointment of the week was Mortal Kombat vs. DC Universe. The kitschy fighting title was knocked out by several other titles and failed to appear even in the extended top 40.
The complete all-formats top 10 in UK is down below:
1.Call of Duty: World at War
2. FIFA 09
3. Mario Kart Wii
4. Need for Speed Undercover
5. Wii Fit
6. Dr Kawashima's Brain Training
7. Football Manager 2009
8. Pro Evolution Soccer 2009
9. Tomb Raider: Underworld
10. Wii Play