First of all, the game will feature a new engine that has been in development for nearly three years, a new Create A Sim (unlimited customization included), plus the complementary realistic personalities.
However, the main focus seems to be on customizations, starting from the way a character looks in the game and ending with how he/she is supposed to react. The Realistic Personality System in The Sims 3 will allow the player to attribute each character with five distinct personality traits, thus creating complex and diverse in-game personalities: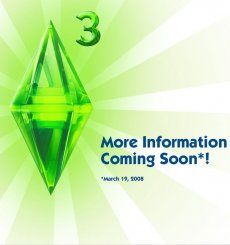 "The new engine and technologies in The Sims 3 are designed to unleash the player's imagination with realistic looking Sims who have distinct personalities and a seamless living neighborhood for them to discover," added Ben Bell, Executive Producer on The Sims 3. "Players are going to be thrilled by the level of realism in The Sims 3!"
In addition, the game will feature a new seamless neighborhood architecture allowing the Sims to roam freely around the neighborhood and visit their loved one and friends or foes. The in-game characters stroll downtown to meet new acquaintances, head across town for lunch, spy on their neighbors and bump into the boss when they least expect it.
The Sims franchise sold over 98 million games around the world and was translated into 22 different languages. The first game was released back in 2000.