According to the
studio
, all personal information will be gathered only with the users' knowledge, for instance when they create accounts for Hellgate: London online or when they enter a contest. Computers will be indeed scanned, but the aim (officially, at least) is a different one: to spot cheaters.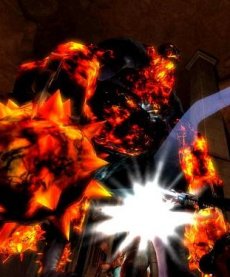 "This catch-all statement was included so that we have the ability to determine if someone is using hacks, unauthorized mods or other abusive applications while playing the game which spoils the gameplay for everyone else. We also use this catch-all to protect other parties offering technical support, such as our online provider, Ping0. This is a completely legitimate function and other leaders in the MMO space do it in an effort to stop hackers and provide better technical support. In order to stop hacks and cheats, as well as attempts at outright fraud, we may need the ability to scan our player's computers for applications running at the same time as our game. "
Advertising is most-likely to be present in the game, with Massive pushing the buttons. Hopefully, Flagship will keep its promise and make the ads really blend in the environment:
" If we did not work with Massive, we would have to get individual approvals from every single company that we want to feature in the Underground stations. This is simply too time consuming and it's much better to have the experts to do it, allowing us time to focus on making Hellgate: London better and better while getting a realistic portrayal of London in the process.
Should we elect to serve ads, they must be approved by us, Flagship Studios. We would demand that they be in-context with the game world – aged, weathered, only shown in appropriate areas, just as the static posters you see in the Stations are now. We have no interest in putting giant, bright-white billboard in the middle of your battles or having you wield swords of Brand X Cola."
Last but not least, Flagship stressed out that it had become a member of the ESRB Privacy Online certification program and therefore, it meets all the standards required to protect user privacy and information.