At least one person has uploaded the illegal version (6.14 GB)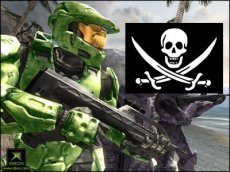 on the Internet,
reports GamesIndustry.biz, and it happened during the last 24 hours. The identity of the man with the eye-patch and parrot remains unknown, although Microsoft and Bungie would like it otherwise.
This is the third mishap in Halo 3's recent history. First it was the game's ending making its way on YouTube, then word got out that UK retailer Argos managed to put Halo 3 on the market one week before the official release date.
Microsoft must be now watching closely its Xbox Live service in order to spot (and ban) the accounts of those willing to give the pirate version a try. Illegal version only work on modded consoles, and the Redmond company hates both of them.
Halo 3 will be released on September 25 in North America, one day alter in Europe and two days later in Japan.