Rock Band's idea to include more than the guitar proved to be a good one, so Guitar Hero World Tour will also add the electronic drum kit (three drum pads, two raised cymbals and a bass kick pedal) and the microphone.
"With the introduction of our advanced high-quality new wireless instruments, in-depth customization options and advanced online functionality, the game enables music fans and gamers globally to share in the most social and expressive music experience ever," said Dusty Welch, Head of Publishing for RedOctane.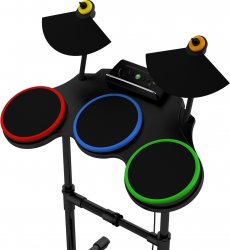 The game will also include a music creator dubbed Music Studio, enabling players to compose, record, edit and be proud of their results (only if necessary). The downside is that the feature is limited to the instruments and voice support is not part of the deal.
The 8-player "Battle of the Bands" feature will have players test their skills against other bands on the online stage. There was no word on virtual applauses, fans or stalkers.
Activision has little to say about the track list for Guitar Hero World Tour. The company mentioned only four band names – Van Halen, Linkin Park, The Eagles and Sublime – but kept silent about the actual tunes.
But speaking of tunes, the company stressed out once again that downloadable content will be once again available for online shoppers.
Guitar Hero World Tour will be released on Xbox 360, PlayStation 3, Nintendo Wii and PlayStation 2.