The Xbox 360 and the PlayStation 3 version, respectively,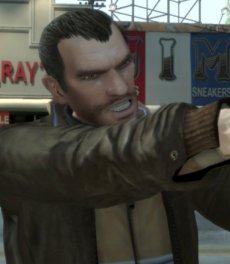 took the gold and silver medal of the sales competition. The next one in line was somehow a surprise, given its PC-only nature: Funcom's MMO Age of Conan.
Ubisoft's Haze shot its way up to number 4 and Wii Play though it was best to avoid being gunned down and settled for the fifth step of the ladder.
Apparently, Britons are inclined to be musicians and not plumbers, as Rock Band pulled ahead of both Mario & Sonic At The Olympics and Mario Kart Wii. Ending the top 10 comes some mental exercise from Brain Training and a bit of Pro Evo 2008.
The complete top is down below:
1. GTA IV (360)
2. GTA IV (PS3)
3. Age of Conan
4. Haze
5. Wii Play
6. Rock Band
7. Mario & Sonic At The Olympics (Wii)
8. Mario Kart Wii
9. Brain Training
10. Pro Evo 2008 (Wii)