In Devil May Cry 4, Dante will step aside for a while let Neo handle the main character part for a while. While the former will still be playable throughout the game, the focus this time is on Neo's "Devil Bringer" arm, as well as on his complementary "incredible attacks and non-stop combos".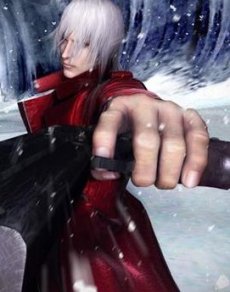 Devil May Cry 4 includes the following features:
– From the producer of the original Devil May Cry and Resident Evil 4
– 2 playable characters – take control of both Nero & Dante
– High-definition 720p visuals moving at 60 frames per second
– Blend of familiar and new: newcomer Nero clashes with veteran Dante plus appearances from Trish, Lady and others from the DMC series
– Exceed System allows Nero to easily charge up his sword with a throttle effect, revving up to three levels with powerful and varied attack options
– Deep combo system rewards stylish dispatching of enemies
– Unique "Devil Bringer" arm opens up a range of never seen before combo options
– Distinct set of weaponry and moves for Nero and Dante
– New active style change system for Dante allows him to switch styles and weapons on the fly, producing crazy combo possibilities
– Numerous new characters and environments
– Signature blend of guns and swordplay
The game is available both standard edition ($59.99) and a special Collector's Edition package ($79.99). The latter also includes four complete episodes of the Devil May Cry: The Animated Series, a bonus DVD featuring "making of" feature on the game, music from the Devil May Cry 4 soundtrack, a digital art book with images and sketches from the development team, wallpapers, icons and screen savers, everything packed in a Steelbook metal case.