The Atari and Starbreeze-made demo is available in all Xbox Live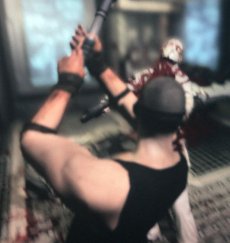 regions and will have the player take up the role of Riddick, the most ruthless criminal in the universe, and lead him to freedom.
Riddick has been captured by The Dark Athena, a mercenary ship hellbent on eliminating him once and for all. That's the start point and from now on you're looking at a mix of intense hand-to-hand combat skills, explosive firepower, and lethal stealth in a race to terminate the maniacal Captain Revas and her deadly crew.
The Chronicles of Riddick: Assault on Dark Athena iwill be released on Xbox 360, PlayStation 3 and PC. The game is a sequel to The Chronicles of Riddick: Escape from Butcher Bay, which was included in the new title.
The game will be released on April 7, 2009.