It all started with Comcast's refusal (along with other companies) to add the NFL Network in its basic cable package. In response, the NFL launched a campaign meant to convince football fans to put some extra pressure on the companies. The campaign even went as far as telling the fans that they should drop their current subscriptions and choose a satellite provider that's been more "friendly" with the NFL (such as DirecTV or Dish Network)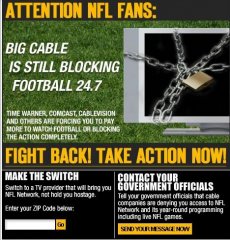 A section on the iwantmyNFL.com site allows users to search for such a TV provider based on their ZIP code.
Aside from Comcast, the campaign targets several other companies, like Time Warner, Charter Communications, Cablevision, Bright House Networks, Suddenlink, and Mediacom Communications.
On the other hand, cable companies claim that adding the NFL Network to their basic packages would increase the monthly fee with around 70 cents, a price that would certainly make their customers think again and most-certainly complain about it.
All in all, this can be summed up as "greedy A vs greedy B", leaving the subscribers to pay most of the bills. However, the dispute brings up once again the idea that an a la carte offer might prove a better choice than the current bundles.