At first sight, Nokia 7205 Intrigue seeks to impress with its black exterior, hidden-until-lit external display, internal color keypad and support for multimedia and musi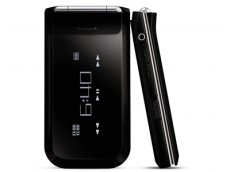 c features. The external display enalbes customers to text messages, play their favorite songs from V CAST Music with Rhapsody (featuring a catalog of over 5 million songs), or turn off the alarm clock.
Additional features of the Nokia 7205 Intrigue include:
– Visual Voice Mail
– One-touch dedicated camera/video button and a 2.0 megapixel camera with flash
– Ability to upload photos to customers' favorite social networking sites
– Bluetooth® profiles supported: headset – Headset, HFP, DUN, Stereo, PBAP, BPP, OPP
(vCard & vCal), FTP, BIP
The Nokia 7205 Intrigue also has several features that promote environmental awareness. The phone comes with a built-in reminder to alert customers to unplug the charger from the wall when their phone is fully-charged, and it ships with a low no-load charger that helps save on energy use. Furthermore, it even comes packaged in Nokia's compact packaging made from 100 percent recyclable materials.

The Nokia 7205 Intrigue is available today for USD129.99 after a USD 50.00 mail-in rebate with a new two-year customer agreement. The V CAST Music with Rhapsody service is available for USD 14.99 monthly access.