First of all, releasing the iPhone under Apple's conditions would be breaking the French law, which requires carriers to sell both locked and unlocked phones, thus allowing users to pick a rival company should they li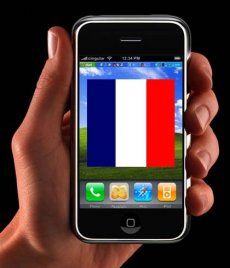 ke to. At present time, it seems that Apple has no way out of this legal trouble. Allowing unlocked iPhones to hit the shelves would mean both bending the company policy and a huge scandal on every other market.
For instance, US customers have been complaining about AT&T's monopoly ever since the iPhone was released and it's most likely things would get worse if another country would get better release terms.
Also, an official unlocked iPhone in France is sure to drive down sales on other markets, as customers are most-likely to be eager to pay more if they can get the device with no strings attached.
Don't forget that carriers must pay Apple a part of all service revenue. UK's O2 is said to hand over around 40% of such revenue. In the mean time, Orange and Apple failed to come to terms for a much smaller figure (30%).
It would be interesting to see what will Apple eventually do, because at present time it looks like lose-lose situation.