According to iGoogle Engineer Matt Gundersen, the update is is already available for US users. Only for US users, with Google still unsure of when will it roll it out worldwide: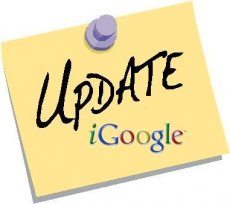 "We're very excited about these changes because it makes iGoogle a more useful homepage and a better platform for developers. And this is just the beginning: Expect to see more canvas gadgets created by developers and more new features on iGoogle soon. Not in the U.S.? Don't worry. We'll also be rolling out this updated version in other countries very soon."
The highlights of the update are the full canvas views for gadget and support for full feed reading. The list of gadgets that can access the canvas view incudes the following:
– News – New gadgets from The New York Times, The Wall Street Journal and The Washington Post give me full-page views of what's new in the world.
– Games – The Sudoku gadget lets me play thousands of full-page Sudoku puzzles without squinting at 6-point type. The GoComics gadget gives me my fix of Garfield and Doonesbury and lets me choose from all of their other comics. I've also spent many coffee breaks browsing through videos from YouTube and CurrentTV.
– Entertainment – I've configured the TV Guide gadget to my zip code and just used it today to figure out when the newest episode of The Office is playing. Flixster's movies gadget lets me access trailers, ratings, and theater information for any movie. I also use the iLike gadget to browse news, concerts, and free MP3s from my favorite musicians.
– Google stuff – The new Gmail gadget lets me read my full email and perform simple actions like send or reply to emails without leaving iGoogle. Last but not least, a gadget that I authored and use every day is for Google Finance, which provides full-screen finance charts and news of the stocks in my portfolio.
Gundersen also pointed out that the update also replaces the tabs at the top with a left navigation, so any gadget is just one click away.